The Margaret River Ale
ON TAP – SETTLERS TAVERN, MARGARET RIVER
Welcome to Settlers Tavern, home of the Margaret River Ale Company. You must come in, say hi and try one of our brews, on tap at the bar.
It is amazing how a cold ale will truly give you a sense of what it is to be a Margaret River local and if you love beer you will like our story.
Rob Gough, owner and founder of Margaret River Ale Company has a passion for craftsmanship and an immense sense of local pride. Taste his Rock'in – Pale Ale, Bombora – Pilsner and Great White – White Ale brews and this will speak for itself. Each style of his ale identifies with local characteristics and is shaping the breweries brand through his story.
Our hand crafted boutique beer is made locally in a small garage-style brewery in Margaret River's light industrial area. Our four original ales Rock'in Pale Ale, Bombora Pilsner, Great White -White Ale and Day Tr'IPA India Pale Ale are all delivered fresh to Settlers doorstep and available to try with a Taster Paddles for $8 at the bar.
Each brew volume is about 1000 litres, or 20 fifty-litre kegs. It takes about 8 hours to brew our beer, followed by 3 to 5 days of fermentation, and 2 weeks of keg conditioning, whereby it is naturally carbonated. All of our beer is unfiltered, unfettered and therefore pleasantly cloudy and flavorsome.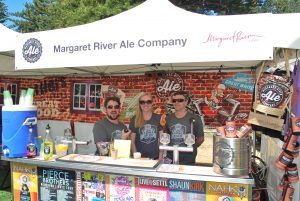 OUR BREWERY – OUR ALES
Margaret River Ale Co . (aka: MR ALE) is a "Micro-Garage" brewery in Margaret River's light industrial area. Each 20-keg batch takes a day to brew, followed by 1 to 2 weeks of primary fermentation and settling. Kegs then condition for 1-3 weeks to naturally carbonate the beer. MR ALE's beers are available only at Settlers Tavern and are delivered fresh from the brewery shortly after being brewed. They are unfiltered, unfettered and made with love.
Each label is synonymous not only with the Margaret River cultural icons that brand each brew type but with the venue of their birth. The Margaret River Ale Company is an extension of the Settlers Tavern experience. The On Tap ales honour with integrity the historical roots of the venue as 'the local' for the good old rock'n roll, beer loving, surfing mad community.
 
"DAY TR'IPA!"
Our brand new brew is rich and boldly flavoured India Pale Ale. 19th century British traders, who added extra hops and strength, to help beer survive the lengthy voyage from England to India, first created IPA. Munich and Crystal Malts combined with Pale Malt lend our IPA its lustrous amber colour. Cascade hops are used exclusively for bittering, aromatics and dry hopping. (ABV 5.2% / IBU 39)
"ROCKIN' PALE ALE"
Rockin' Pale Ale is inspired by America's West Coast, Northern California, and further north to Oregon, where distinctive Cascade hops define the character of hearty American Pale Ale. Cascade bittering hops provide clean and bitter flavour on the palate. Late hopped Cascade clusters are spicy and aromatic, with delicious pine & citrus-like aromas. Pale barley malt is the main ingredient behind the slightly fruity, toasted malt flavor, whilst a touch of lightly roasted cara-malt gives this beer its rich golden hue. (ABV 5.0% / IBU 36)
"GREAT WHITE ALE"
Great White Ale is a twist on classic Belgian Wit Bier, using American Ale yeast rather than the traditional spicy European varieties, making for a smooth, easy drinking wheat beer. Malts are a 50/50 blend between wheat and pale barley malt, with Riwaka hops for bittering, and Hallertau and Tettnanger hops for subtle aromatics. The addition of dried orange peel, star anise, coriander seeds and juniper berries lends a subtle spicy character to the aromatic palate. (ABV 4.9% / IBU 28)
"BOMBORA PILSNER"
Bombora Pilsner is made with 100% Weyerman Pilsner malt. Saaz hop pellets from the Czech Republic provide a bracing backbone to the crisp pallet, and Saaz hop flowers are added late producing fragrant aromas. Bombora is lagered for a minimum 12 weeks allowing complex flavours to meld into a smooth and creamy texture. (ABV 5.1% / IBU 48)